Main content starts here, tab to start navigating
Menus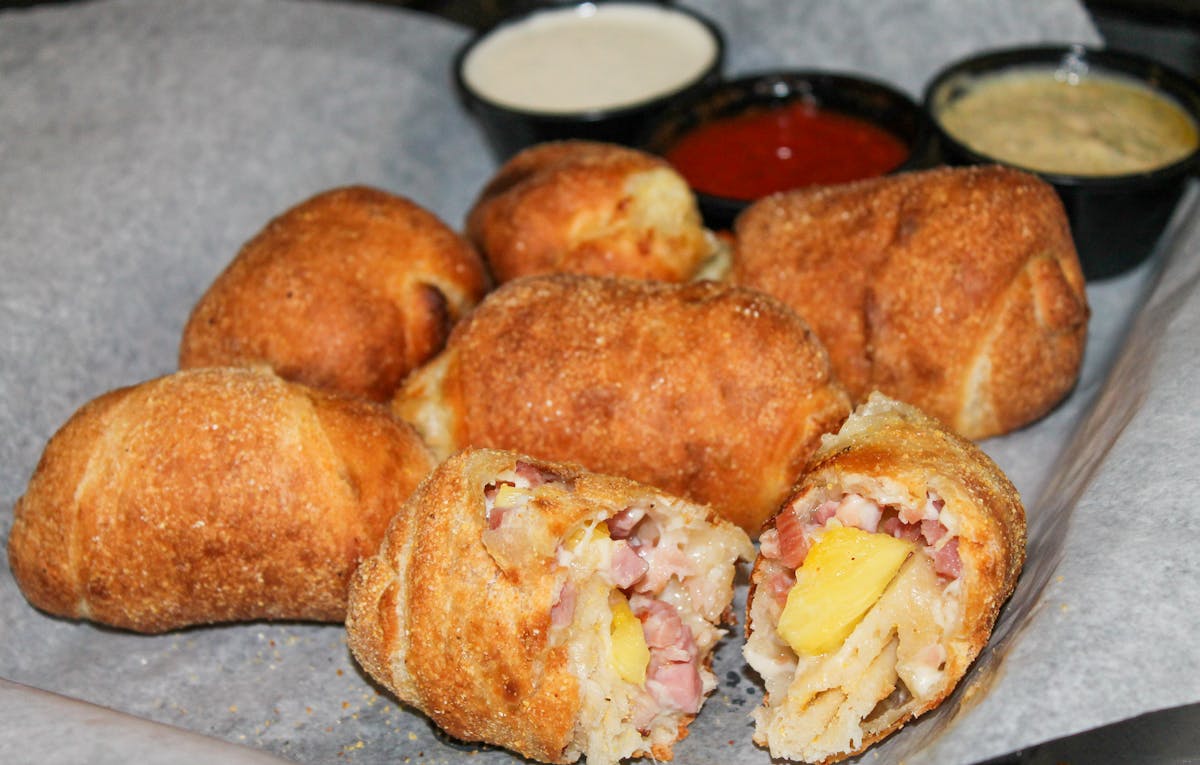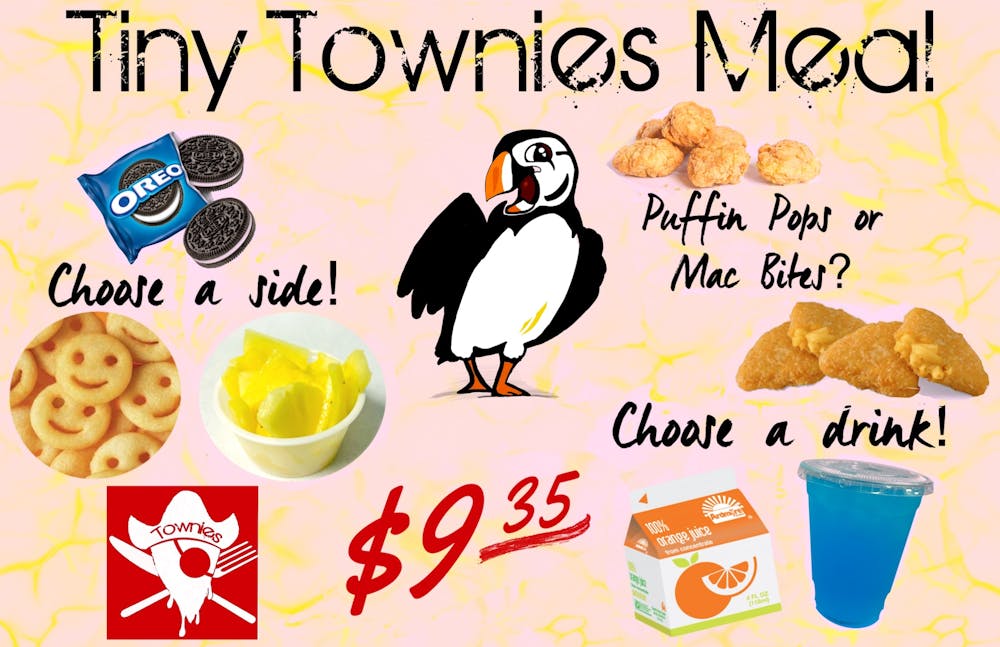 Salads
Add chicken to any salad for $1.64
Greek

This is a rough country salad of crisp lettuce, juicy tomatoes, quick pepperoncini, sliced onion, plump kalamata olives, black olives, crumbly feta cheese, and our greek vinaigrette

$8.41

Spinach

Crispy bacon, vine-ripened tomatoes, dried cranberries, walnut pieces, sliced onion, sprinkled with black olives and bleu cheese crumbles, over a bed of fresh spinach and drizzled with balsamic vinaigrette

$9.58

Garden

Lettuce, tomatoes, onions, green peppers, mushroom, black olives, and fresh mozzarella

$5.37

Chef

This hearty nutritious chef salad is bursting with high-quality ham, turkey, crispy bacon, black olives, tomatoes, onions, balsamic vinaigrette, and freshly grated mozzarella cheese

$9.11

Caesar

All hail the Caesar salad. Featuring all of the quality ingredients you'd expect in this Townies favorite, including crisp lettuce, bacon, creamy caesar dressing, herbed croutons, and grated parmesan cheese and tossed for you

$8.41

Side

Goes great with other items to make a complete meal. Enjoy fresh lettuce, shredded mozzarella cheese, quartered tomatoes, and sliced onions

$3.97
Munchies
Garlic Knots

$4.91

Blue Cheese Chips

$5.84

Pretzel

$3.74

Garlic Cheese Bread

$4.21
Specialty Pizza
Small $14.25 | Medium $17.52 | Large $22.20
The "Furey" Pizza

Townie's original buffalo sauce, chicken, blue cheese crumbles, mozzarella

Flaco's Original veggie Pizza

Fresh spinach, mushrooms, green peppers, onions, tomatoes, extra cheese, black olives

Hawaiian Pizza

Ham, bacon, fresh-cut pineapple, mozzarella

BBQ Chicken Pizza

Pulled chicken, mozzarella, basil, salt, black pepper, onion, bacon

The "Travolta" Pizza

Olive oil, tomatoes, basil, salt, black pepper, garlic, oven-roasted tomatoes, fresh mozzarella
Premium Pizza
Small $15.89 | Medium $18.93 | Large $24.30
The "Dirty Dina" Pizza

Sriacha sauce, meatball, blue cheese crumbles, sausage, onions, mozzarella

Mighty Meaty

Pepperoni, sausage, ham, bacon, extra cheese

Mrs. Z'S Deluxe

Pepperoni, sausage, beef, mushrooms, green peppers, onions, black olives, extra cheese

White Pizza

Olive oil, tomatoes, basil, feta, garlic, oven-roasted tomatoes, ricotta cheese, mozzarella

Bacon Cheeseburger Pizza

Townie's original ranch, beef, bacon, onions, tomatoes, mozzarella, black pepper

BLT Pizza

Mayonnaise, bacon, mozzarella, tomatoes, lettuce, black pepper
Build Your Own
Gluten-free available 10" only please add $3.00
Choose Size

Small "10 $6.31

Medium "14 $10.98

Large 18" $15.19
Choose Proteins
$1.64 | $2.10 | $2.57
Pepperoni

Bacon

Chicken

Italian Sausage

Beef

Salami

Ham

Meatball

Steak

Anchovies

Extra Cheese

Feta Cheese

Blue Cheese Crumbles

Ricotta

Hot Capicola
Choose Veggies
$1.64 | $1.87 | $2.10
Onions

Mushroom

Artichoke Hearts

Green Peppers

Fresh Basil

Fresh Spinach

Fresh Cut Pineapple

Garlic

Oven Roasted Tomatoes

Kalamata Olives

Tomatoes

Black Olives

Green Olives

Banana Peppers

Jalapeno Peppers

Sliced Hot Cherry Peppers
Pizza Rolls
Basic

(6) $8.41

(12) $14.72

Cheese

Feta

Pepperoni

Hawaiian

Spinach

Swanky

(6) $9.58

(12) $17.52

Buffalo Chicken

Diablo

Dirty Dina

Sausage

Steak
Calzones
Deluxe

Pepperoni, sausage, beef, mushrooms, green peppers, onions, black olives, extra cheese

$10.51

Meat

Pepperoni, sausage, ham, bacon, extra cheese

$10.28

Fresh Veggie

Fresh spinach, mushrooms, green peppers, onions, tomatoes, black olives, extra cheese

$9.11

Create Your Own

Add toppings to your calzone. Find toppings under "build your own pizza"

$7.01

Add proteins (each) $1.95

Add veggies (each) $1.60
Sandwiches
Chips included
Meatball

Hot marinated Italian meatballs, oven-baked with mozzarella cheese, zesty marinara

$7.24

Chicken Parmigiana

Breaded white meat chicken breast, zesty tomato sauce, mozzarella cheese

$7.48

Italian

Ham, salami, pepperoni, provolone, lettuce, tomatoes, onions, black olives, banana peppers, Italian dressing

$7.24

Served cold or toasted
Beverages
22 oz Fountain Drink

$2.34

Mexican Coke

$3.27

2 Liter Coke

$3.27

2 Liter Diet Coke

$3.27

2 Liter Sprite

$3.27

Apple Juice

$3.04

20 oz Bottle

$2.80

Coke, Cherry, Diet 20oz Bottle

$2.34

Milk Chocolate

$1.40

Sweet Tea

$2.34

Unsweet tea

$2.34

Tropical Blend

$3.04

Blue Powerade

$3.27
Beer
Coastal Love

12 fl oz can. Hazy IPA - A portion of the proceeds for this juicy IPA are donated to hurricane relief efforts in the Southeast by Wicked Weed Brewing.

$4.21

Mad Manatee

12 fl oz can. "It's as bitter as a mad manatee!" This American IPA, brewed by Bold City Brewing in Jacksonville, has a high acid alpha hops varieties with a citrus finish.

$3.27

Mocama Cosmico

12 fl oz can. Locally brewed right here on Amelia Island by our friends at Mocama! This fruit forward, toasty American IPA is one of our new favorites!

$4.21

Duke's Cold Nose Brown Ale

12 fl oz can. Local to Jacksonville FL, this is Bold City Brewery's best selling beer.

$3.27

Budweiser

12 fl oz bottle

$3.27

Michelob Ultra

12 fl oz bottle

$3.27

Bud Light

12 fl oz bottle

$3.27

Rolling Rock

12 fl oz can

$2.34
Wine
Barefoot Rose

6.3 oz bottle of Barefoot Rose

$6.78

Cabernet Sauvignon

6.3 oz bottle of Barefoot Cabernet Sauvignon

$6.78

Summer Red Spritzer

8.4 oz can of Barefoot Summer Red Spritzer

$9.11
Lunch Specials are available Tuesdays through Fridays until 3PM.
Lunch Specials
One Slice Special

$3.50

Two Slice Special

$6.54

One Slice + Drink Special

$5.37

Two Slice + Drink Special

$8.18

Small 10" Lunch Special

Includes one topping and a drink.

$7.48

Lunch Special Medium 14"

Includes one drink.

$10.51

Lunch Special Large 18"

$12.85

Salad Lunch Special

A side salad with one drink and garlic cheese bread. Add +$1.00 for any other salad.

$7.48
Ice, serving utensils, 16oz sauces & tablecloths are also available for Caterings.
10% gratuity is reflected in all catering prices.
20-25 People
1-Topping Pizzas

4 Large Pizzas

$78.03

Specialty Pizzas

4 Large Pizzas

$97.66

Premium Pizzas

4 Large Pizzas

$107.01

Mixed Pizzas

4 Large Pizzas

$90.19

Garlic Knots

1 Tray of 40 Knots

$21.49

Monkey Knots

1 Tray of 40 Knots

$25.70

Deluxe Salads

Greek, Spinach, Chef & Caesar Salads

2 Trays $92.29

Simple Salads

Garden & Side Salads

2 Trays $58.88

Meatball Parmigiana

1 Tray of 25 Meatballs

$32.95

Gallon Drinks

3 Gallon Jugs of Tea & Soda

$32.95

Goodies

25 Plates, Napkins, Silverware, Cups, Etc.

$25.47

Catering Setup

This service is for those who want to skip the "setting up" part of their event and leave it to one of our caterers to set up all of your items in a way that will surely impress your guests!

$16.59
35-40 People
1-Topping Pizzas

7 Large Pizzas

$136.44

Specialty Pizzas

7 Large Pizzas

$170.80

Premium Pizzas

7 Large Pizzas

$187.15

Mixed Pizzas

7 Large Pizzas

$157.71

Garlic Knots

2 Trays of 40 Knots

$42.99

Monkey Knots

2 Trays of 40 Knots

$51.40

Deluxe Salads

Greek, Spinach, Chef & Caesar salads

3.5 Trays $161.45

Simple Salads

Garden & Side Salads

3.5 Trays $103.04

Meatball Parmigiana

1 Tray of 50 Meatballs

$52.75

Gallon Drinks

5 Gallon Jugs of Tea & Soda

$54.90

Goodies

40 Plates, Napkins, Silverware, Cups, Etc.

$40.89

Catering Setup

This service is for those who want to skip the "setting up" part of their event and leave it to one of our caterers to set up all of your items in a way that will surely impress your guests!

$21.03